I have used the product Zanfel once before for a bad case of poison oak. You can read my previous article. But what is in Zanfel that makes it work?
You can find the list of ingredients on the product packaging and also by searching the web. But, the specific active ingredient that does all the magic appears missing. The website notes that "U.S. and Foreign Patents Pending" so they probably don't need to give away the secret just yet.
So, I decided to look into the known ingredients to see what I could find.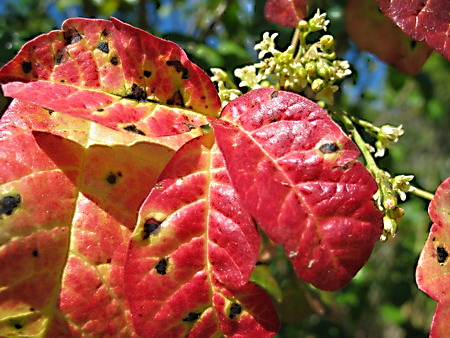 Western Poison Oak Photo Gallery (click to view)
Listed below are the ingredients as found on the Zanfel packaging.
Looking at this list leads me to believe that Zanfel is simply a cleanser. Similar to Tecnu. Of specific interest are the ingredients Quaternium-15 and Triethanolamine. These are both known irritants and may cause allergic reactions!
So, before using this product, be sure to follow any precautions and also to read through the ingredients. Note, the descriptions below are from my own quick sleuthing. They may or may not be correct. Let me know if you have corrections.
Cheers!
Zanfel Ingredients
Polyethylene Granules – Used to help active ingredients penetrate better when applied.
Sodium Lauroyl Sarcosinate – A weak anionic detergent (foaming/wetting agent).
Nonoxynol-9 – Commonly used as a spermicide. But, also widely used as a biocide (disinfectant) in cosmetics, baby wipes, detergents and other products.
C12-15 Pareth-9 – Typically used as sole detergent in highly alkaline laundry liquids and cleaning formulations.
Disodium EDTA – (Disodium Ethylene–Diamine–Tetra–Acetate) Anionic Surfactant. A sodium salt of a mild organic acid and helps the system resist bacterial spoilage.
Quaternium-15 – From http://www.dermnetnz.org/dna.acd/q-15.html Quaternium-15 is a formaldehyde-releasing preservative used in many cosmetics and pharmaceutical preparations. NOTE: Quaternium-15 may cause an allergic reaction with people that are either sensitive to formaldehyde or have a specific sensitivity. The reaction is normally a contact dermatitis.
Carbomer 2% – Found in many hair and lotion products. Possibly a polymer and used as a thickening ingredient.
Triethanolamine –
From http://ntp-server.niehs.nih.gov/htdocs/IT-studies/imm90005.html Triethanolamine, produced along with mono- and diethanolamine by ammonolysis of ethylene oxide, is used in many cosmetics, fatty acid soaps, household detergents and emulsions, wood scouring, and as a water repellent in textiles. U. S. production and sales for 1989 was estimated to be 72 x 108 lb. Although triethanolamine is a skin, eye, and mucous membrane irritant, no information could be found on its sensitizing potential.
From http://physchem.ox.ac.uk/MSDS/TR/triethanolamine.html May be harmful by inhalation, ingestion or through skin absorption. Chronic exposure may lead to liver and kidney damage. Skin irritant – may cause dermatitis.
From http://umbbd.ahc.umn.edu/tea/tea_map.html Over 1.2 billion pounds of triethanolamine are produced annually in the United States. Triethanolamine is widely used as an ingredient in emulsifiers, thickeners, wetting agents, detergents, and alkalinizing agents in cosmetic products; as a chemical intermediate for anionic and nonionic surfactants and surface active agents in household cleaning agents, textiles, herbicides, pharmaceutical ointments, and other products; as a vulcanization accelerator in the manufacture of rubber; and in many other industrial applications.The National Cancer Institute nominated triethanolamine for study because of its widespread use in cosmetics and other consumer products, its high potential for worker exposure due to its many industrial uses, and its potential for conversion to the carcinogen N-nitrosodiethanolamine.
Water – Our friend H2O!
That's all folks! 🙂