Broken clavicle (collar bone)!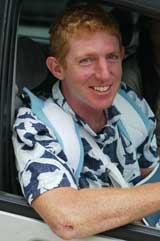 Well, I've managed to bust myself up.
I broke my left clavicle (collar bone) at the Folsom Criterium in the Masters 35+ 1/2/3 race. Start of the last lap of my second race. Some idiot clips the bars of the guy next to him, sending the guy down, directly in front of me. Curb and fence on the left and pack on the right. I was able to just avoid him but had to run over his bike. Ejected at 28mph.
I flew through the air for what felt like seconds and then hit and rolled. As I came to a stop I tucked and glanced back, expecting to be creamed by riders coming up behind. Luckily they were able to avoid.
Then I lay back and started going through the status check. Hmmm, legs, arms, shoulder… ouch, something not right up there. I reach over and feel my left shoulder and feel a bump. Uh oh, that's not good. Just then a official comes over and asks "are you ok? Do you need help?". I reply that "I think I'll need help". "Do you need an ambulance?" he asks. "Um, yes, maybe…". He glances back down the course, "Can you walk?". "Yes, in a second". "Well, that would be good because the race is going to finish in a moment and it would be good to get you out of the course". Good idea!
So, I get a hand up and walk over to the grass and lay down again. Yup, it was beginning to hurt. I never even noticed the finish of the race. As I lay there I ask if my bike is OK. Already crunched the frame once this year. Strangely enough, bike survived with only a few scratches.
After some chatting and info gathering with one of the race staff, we decide to skip an ambulance and get someone to drive me the short distance to the hospital. But first I wanted to dump my bike and gear in my truck. At the truck I decide to strip off the jersey. The guy helping me is telling me to leave it on since they will just cut it off and it's ruined anyways and it will save me the pain. Pain? Destroying another jersey, that's pain! As I'm peeling it off he's looking at me like I'm crazy. Well, I get the jersey off and what looks like a lot of blood on the jersey is actually a Mocha Mocha Clif Shot that exploded on impact. Unloaded of gear and now carrying my clothes, we head over to the registration booth to enlist Will to taxi me. He's very cool and gets me to the hospital.
I won't go into the emergency room details but it was about 4 hours and during that time: filled out forms, waited, quick look by doctor, waited, x-rays, waited, tetnus booster shot, waited, scrapes cleaned and bandaged, waited, pee in cup, waited, final look-see, given shoulder restraint, fill exit forms, pay co-pay, done!


Left Side Distal Clavicle Fracture
The good news is that the collar bone has a clean break, isn't poking up, and should heal well. I went a few days later and saw Dr. Massimo Testa to have him do an examination. He's a great doctor and understands cyclist's needs. Along with the examination he put together a 3 week training program. I'll be able to maintain my fitness!
A broken collar bone usually mends itself in about 6 weeks. I've been lucky and not had much pain. I'm wearing a figure-eight brace and a sling for the arm. The suffering now is not being able to ride and race during some great weather. Oh, and training on a stationary bike inside is torture. Good thing for DVDs.
Be careful out there.
Cheers!
p.s. I highly recommend Dr. Testa and also Dr. Eric Heiden over at U.C. Davis Sports Medicine. If you are in Northern California and have a sport related injury, call them!
DISCLAIMER: The following content is for informational purposes only. The content is not intended as a substitute for professional medical advice, diagnosis, or treatment. Diagnosis and treatment of all health conditions should only be performed by your doctor or other licensed health care professional. Never disregard professional medical advice or delay in seeking it because of something you have read on this site.