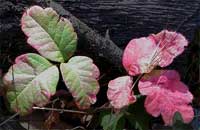 Oh the evils of mother nature. I was once again touched by one of her servants, the infamous Poison Oak. There isn't an off-season for this nasty beast. It can strike at any time. It has many forms, a shape shifter of demon plants. Here's a link to a gallery I put together: Western Poison Oak Photo Gallery. I have also tracked down the following Poison Oak photos. Note the variety of forms.
Though familiar with the monster, I foolishly ignored the signs of its presence on a recent day down near Monterey. I even arrived fully prepared in case of attack. I had brought my bottle of Tecnu. This amazing product has saved me in the past. Even after the mark of the beast has begun to appear (the rash), I have washed with Tecnu and reduced or removed the rash.
But, alas, I became foolish. I had traversed in an area I knew was the lair of the beast. I had brushed near, stepped past, and hopped over all manner of plants. Upon returning, without spotting the beast, I ignored my own advice and left my salvation, my Tecnu, tucked in my bag to use for another time.
Within a day I began to itch. And itch, and Itch, and ITCH! Argh!!!


I now knew my fate and by the signs appearing, I was doomed. It was too late to Tecnu. The poisons had settled in. Still, out of blind faith, I washed with the Tecnu. With a glimmer of hope I wished for the magic fluid to wash away my torment. But, it was of no use. The poison was embedded deep within my skin and my body had swung into full attack. On both my legs the rash appeared. A long stripe first appearing behind my right knee and then down the shin. Then another on my left shin. Soon, the blisters appeared. These little nasty bumps swarm the rash sites. They begin to "weep", discharging fluid. It's getting ugly.
I made a dash to the drug store and bought some calamine lotion and another Tecnu product called CalaGel which I didn't know about. Also large bandages, tape, all the stuff I could find to deal with the situation. The CalaGel turns out to be a replacement for calamine lotion. I decide to give it a try and smeared it over the rashes. It did help reduce the itching but wasn't stopping the rash.
I am now on my way back to a normal life. I think I have learned my lesson, knock on wood. But, if I once again act foolishly and encounter that demon plant, I will now know how to fight back.
Cheers!
p.s. In my search for cures I found this helpful site describing Poison Oak and Ivy and various home remedies.