Here is another well done article by a 30 year old rider that broke his collar bone during a criterium bike race. It chronicles his journey from the initial break, through the ups and downs of healing, to his recovery.
Enjoy.
DISCLAIMER: The following content is for informational purposes only. The content is not intended as a substitute for professional medical advice, diagnosis, or treatment. Diagnosis and treatment of all health conditions should only be performed by your doctor or other licensed health care professional. Never disregard professional medical advice or delay in seeking it because of something you have read on this site.
Chad's Broken Collar Bone Report
By Chad Crocker
First of all, let me say that this website helped me with many concerns and questions I had after my collarbone was broken. Hopefully, my detailed account will help others in the same way.
On October 15, 2005, I was racing in a criterium and broke my collarbone. As you can see from the x-ray (week 1), it was distal third "fracture".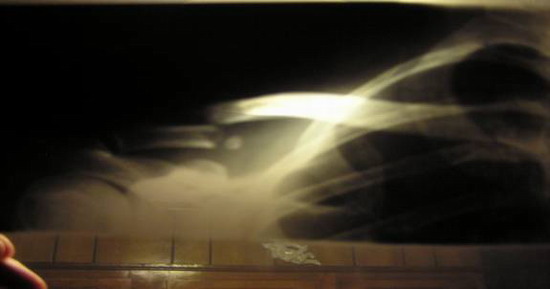 At the hospital, they cleaned my road rash (plenty of it), put me in a figure of 8 brace, arm sling, and gave me a prescription for some wimpy Lortabs. The ER doctor said to move my arm/shoulder as little as possible, even in the shower. When I got home, I jumped on the internet and found Hans' website which provided a wealth of knowledge and experience from others who have been through the same thing.
WEEK #1
The first three days after the wreck were extremely painful. I had a bad bruise on my shoulder that ran down my bicep. After a few days, it turned a funny green color. This was normal. Another lady who told her story on this site had the same thing happen. I tried to sleep in a bed for two nights. Every time I tried to get up, my collarbone moved in ways that it definitely should not have moved. So, for the next 5 weeks, I slept in a recliner. Did I mention that the only clothes I had on were my boxers, figure of 8 brace and sling? Road rash sucks!!!
As for supplements, I started taking 2500 mgs of Calcium citrate and a multivitamin everyday. Calcium Citrate is supposed to help acidify the urine somewhat to help prevent kidney stones from such a high intake of Calcium.
WEEK #2
Pretty much the same as week #1. My brother is an x-ray, CT, and MRI tech, so I had a few x-rays taken. Absolutely no change. Of course, calcification doesn't show up for a few weeks. Didn't know this at the time, though. Oh yeah, it is unbelievable how much crap is on TV.
WEEK #3
I'm finally able to put on a pair of shorts. My shoulder and bicep are still several funky shades of yellow and green. Still no improvement on the x-ray that I could see. This concerned me. Especially after reading some of the horror stories people had about collarbones not healing even after 7-8 weeks. Now I'm paranoid and keep my arm and shoulder completely immobilized. Later, a friend/doctor looked at the x-ray and pointed out that the bones are not as rough as in the first x-ray and the ends have smoothed out somewhat (signs of healing). Guess I should have left reading x-rays to the professionals.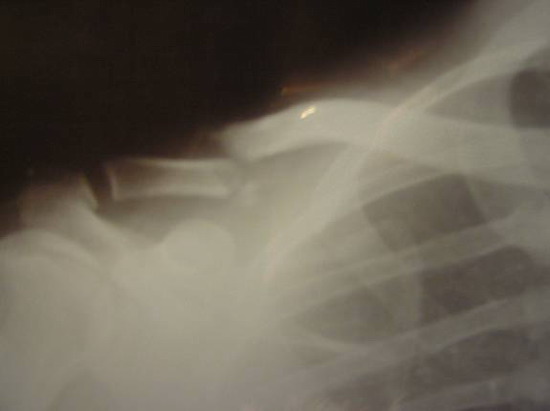 WEEK #4
Still the same old thing. My shoulder was still hurting pretty bad from where I was slammed into the pavement at 30 mph. My moral was starting to get pretty low at this point. I really wanted to go for a bike ride, but taking time to heal is best. I kept everything completely stable and only took my brace and sling off for showering. Keeping your arm completely still at your side makes taking a shower very interesting.
WEEK #5
GREAT NEWS!!!! Went to the doctor on Tuesday and she said the fibrous bridge between the two bones had formed. The sling came off and most of the road rash has healed. Most, not all. The figure of 8 came off Saturday. Now comes the fun part… physical therapy. When the sling came off, I could not raise my arm at all. Every chance I had, I was moving my arm as much as possible. Using a broom stick works very well. You basically use your good arm to pull up and stretch the injured arm. By Saturday, I was able to lift my arm out in front of me. Good enough. Now it's time to hop on the stationary bike. I also started sleeping in a bed. Still have some shoulder pain near the rotator cuff.
WEEK #6
Went to see the other doctor this week. The fibrous bridge is starting to show on x-ray. This made me happy, but I was still having pain in my shoulder around the rotator cuff area. My shoulder was still bruised. Because of the location, the doctor ordered an MRI to look for any tears or other damage. I have a lot more mobility now. Mostly thanks to my chiropractor, Dr. Michael Silver in Gastonia. I have to give this guy a big "Thank you." He helped get my full range of motion back in less than two weeks.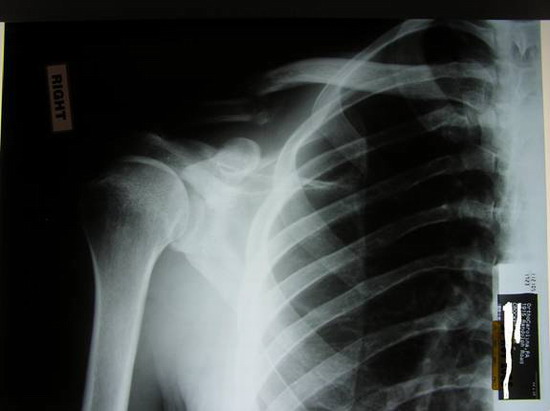 WEEK #7
Everything is healing up. I still have some tenderness in my shoulder and AC joint. MRI results will be back next week. Of course, I do have some pain and tightness in my shoulder and back. All the bruising has disappeared and I have almost full range of motion in my shoulder. Still working with Dr. Silver to get more flexibility and better movement. I was on the stationary bike 4 days this week and hit the gym for some good leg workouts. I was not doing any upper body exercises until the MRI results came back clean.
WEEK #8
MRI results came back clean. It showed a bruised bone, bursitis (from smacking the pavement very hard), and a stretched AC joint. The rotator cuff was completely intact and healthy. I received the news on Tuesday and hit the pool that night. By Saturday, I was back swimming for one full hour nonstop. I have a few MRI pictures below. According to the doctor, this is what a "healthy" shoulder should look like.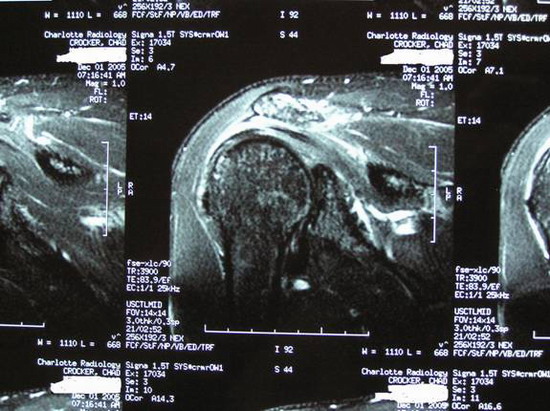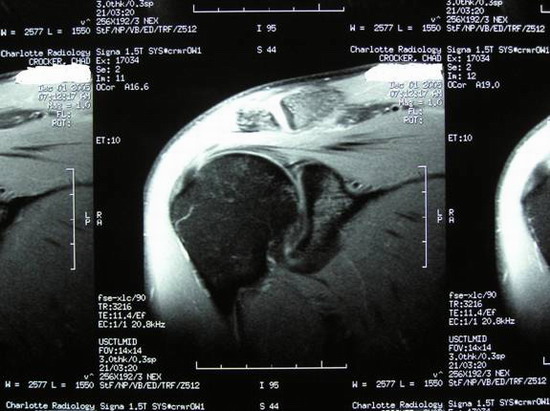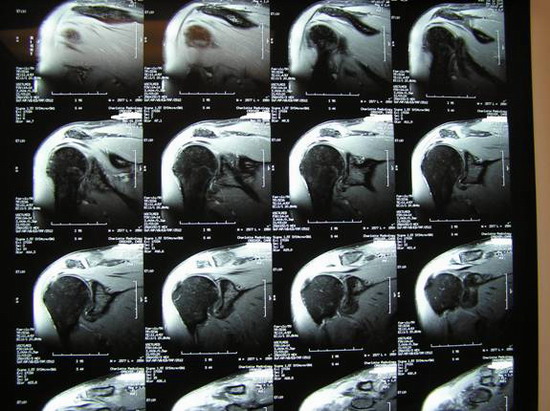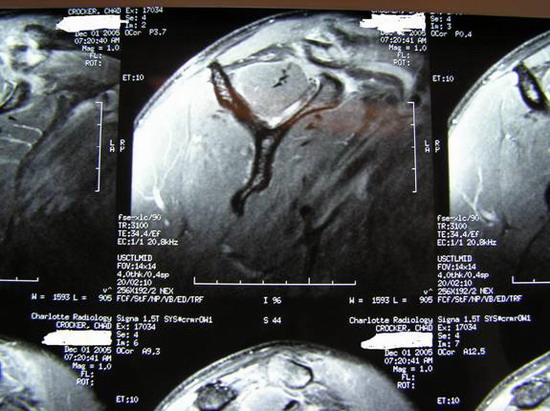 WEEK #9
My leg workouts in the gym are back to normal except for squats, hack squats, etc. No weight on the collarbone. I went to the doctor this week for more x-rays. We were able to see some calcification. The doctor said that I was 90% healed, and could start lifting weights again in about 3-4 weeks. She was surprised at the amount of flexibility and strength that I had.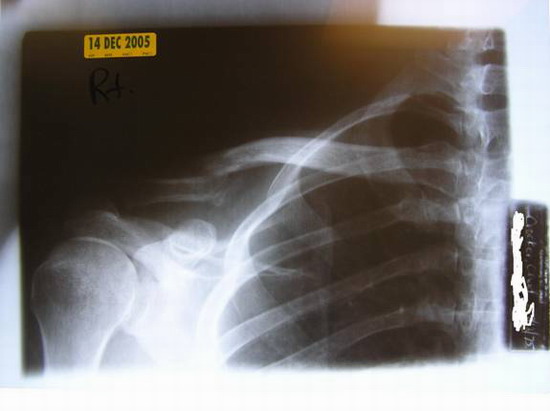 WEEK #15
For the past few weeks, I have been working out in the gym with light weights, swimming, and riding my stationary bike. Still too cold to be outside. Had my last set of x-rays this week. Everything looked very good and the calcification was very visible. The doctor said that my collarbone was stronger here than at any other point and cleared me to do whatever I wanted. Even ride my bike. I didn't mention that I had already been out for a few rides.
5 MONTHS
After several doses of supplements, quality mass builders, and prohormones that are now banned by the FDA, I have regained every bit of strength plus a lot more. Several exercises still hurt my shoulder like standing curls, but military presses don't bother it at all. Strange, but it will just take some time to learn my new shoulder. I also added glucosamine sulfate and fish oil to my daily supplements to help with joint pain from lifting heavy. This stuff works pretty well to be sold over the counter. My right shoulder is now a little bit shorter than the left, but it functions very well. The only place I really notice it is on the bench press. All I did was adjust my hand positioning. It had little effect on how much I could bench.
Take this for what it is. One guy's story of experiencing a broken collarbone. I was very careful and did everything I needed to do for a quick recovery. All things considered, things went very well. The best advice I can give is:
1) Listen to your doctor
2) Get a second opinion (never hurts to ask)
3) Explain that you are a very active person and be treated as such. My chiropractor was the only one that treated me this way and helped my recovery more so than the other physicians.
4) Definitely take more calcium. This was recommended by all the doctors I went to.
5) Take time to recover properly the first time. It is better to lose 3 months to an injury than 6, 7, or more.
Hope this info helps others out there going through the same thing.
UPDATE (2012-04-23):
In March 2011, I started to develop severe pain in my upper back and neck that ran down my arm. It got to the point where I couldn't swim 500 yards which is significant because my Ironman swims were around 1 hour. I had xrays, MRI's, and spent 8 months in physical therapy. The Ortho couldn't find anything and the PT kept saying I had a muscle imbalance. I always felt that my collarbone didn't heal quite right and believed that was the problem. Unfortunately, the Ortho did not think that was it. After 7 full Ironman triathlons, I would have to say that I'm more in tune with my body than a doctor looking at pictures. So, I started searching for a new doctor and my former motocross buddies pointed me to a surgeon in Texas (Dr. Mark Sanders). I did a LOT of homework on this guy before making a decision to have surgery. In January 2012, he broke my collarbone in two places and plated it back together. He said it had healed 1.5 cm short and rotated forward. Within a day after surgery, my pain was almost completely gone. It actually felt so good, I walked into the doctor's office for follow up without the sling. I wouldn't advise this, as the tongue lashing was extreme. I am currently 12 weeks post-op and well on the road to recovery. Three weeks ago, I went to the same PT who treated me last year and she was completely amazed at my range of motion and how the mechanics of my shoulder/scapula had changed (for the better). After seeing me, she said having that surgery was the right thing to do. Things still aren't perfect, but are much better than before surgery. My shoulder and scapula were in the wrong position for 6 years of intense Ironman training before giving out. It's going to take time to retrain it. Time for the disclaimer. I probably would not have had this much trouble if it wasn't for the amount of overhead exercises I do. Lifting weights and the repetitive overhead motion of swimming took its toll on a misaligned collarbone/shoulder. Pushing through pain, hoping it will get better is obviously the wrong thing to do. Especially pain that lasts for months.
My personal opinion, and that's what it is, is to get a collarbone fixed if you are an active person. I've been in both situations, and I will get it plated every time from now on. Zero doubt.
More "Broken Collar Bone" Articles
Don't miss reading the information and comments in my other collar bone entries:
Broken Clavicle (collar bone)
Broken Clavicle No More
What to Expect From a Broken Clavicle