Event: Central Coast Mountain Bike Race Series 3
Category: Expert Men 35-44
Date: March 28, 2004
Place: 5th
Field: 17
Team mates: Mike, Cory, Joe, Dave, Rick
Now just picture this. Home made fried chicken, mashed potatoes and gravy, greens, and hot biscuits. Follow that with pecan pie and ice cream. Mmm mmm mmm.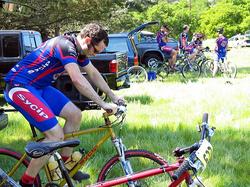 That was my pre-race dinner and it sure was good. But, by the following morning I could still feel all that happy goodness. And goodness was going for a fast ride. A 25 mile twisty bumpy racing ride. Oh jeesh.
I loaded my belly onto the bike and did a quick loop on the course. A very nice 5 mile loop. Only a few short climbs. And acres of Poison Oak! Gosh, will it never end? Continued my warm-up on the road and then lined up for the start. All the regulars were there.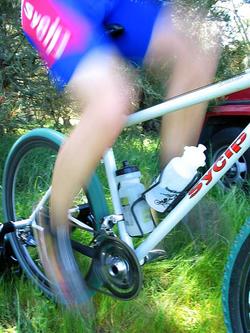 Off we go, another fast dash up the road for the turn onto the single-track. I tuck in a few riders off the front. Cory is up there working his butt off for that lead position. Go Cory! We reach the single-track and I'm in 4th. The pace keeps up and we are zinging along. Off the front goes Keith. He's slowly drifting away. No matter, we're working hard enough and there are 4 more laps.
I feel good, no complaints from the legs. Into the second lap though I start losing a little steam. Probably from the first lap effort. I drift back a bit and lose a wheel I should being fighting for. I mentally smack myself for that mistake and then focus on recovery and catching back. After a bit of solo riding another rider pops into view. Ah, I begin chasing the carrot.
But then, in the middle of the third lap, after catching the rider ahead, I make a dumb mistake and carve a corner too fast. My front tire can't hold it. Whoosh, wham, down I go. Dang front tire wash-out (Note to self, replace that Michelin Comp S Light when riding loose surfaces!). I quickly jump back on and get rolling but I have once again lost my carrot.
It's a chase again. We slinky back and forth. He pulls away on the flats and I reel him in on the hills. This goes on into the fourth lap. I can tell I'm getting tired but I realize I'm running slower than I can. I decide to attack on the last uphill. This plan works flawlessly. He again slows on the hill, but this time I am ready. I'm close enough and I attack the hill and pass him.
It's now rolling fast trail back to the finish. I keep on the speed and as I drop down into the finish area, I am able to look back and see that I am home free. I cruise it around and over the finish line.
David yells over, 'come get your beer'. These guys rock! :')
Cheers!
[ click any image to zoom ]