Casshern Movie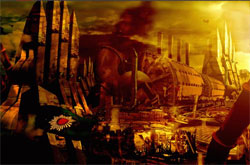 I just viewed an awesome trailer for the new Japanese movie Casshern. From the photos and the trailer on the website this looks to be a mind blowing visual extravaganza. The movie is a live-action anime with a Matrix and Blade Runner feel to it.
I wonder if it will make it to theatres here in the states?
Update: meh, it's so-so.